ROSE
Lovely white roses on the window create a soothing atmosphere.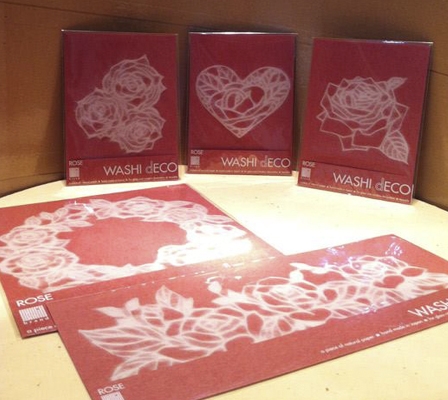 For this rose-patterned paper, 100% natural material from kozo paper mulberry is used. By forming the kozo fibers into various shapes, each of the roses is created. This is real handmade washi paper. Aiming to transcend the valuable skills of Mino Paper artisans, young people have been apprenticed to the skilled professionals. After hard practice, they become independent and produce unique and wonderful washi paper. You can stick this paper on a window simply by spraying water. It can also be removed easily when dried. Repeated use is also possible. Enjoy the texture of the natural material.
Price
JPY 300 – JPY 800
Manufacturer
Ieda paper-craft, Inc.
TEL
+81-58-262-0520
URL
E-mail
Product Information
Material: kozo paper mulberry 100%
Size: L - 230mm × 210mm,
S - 167mm × 119mm
Weight: L - approx. 10gm, S - approx. 5g
Variations: total 7 patterns

JPW000603