Hanakazura Small Suzuro/Kikyo
Fusion of lanterns and modern design.
The lantern stand gives off attractive and elegant light.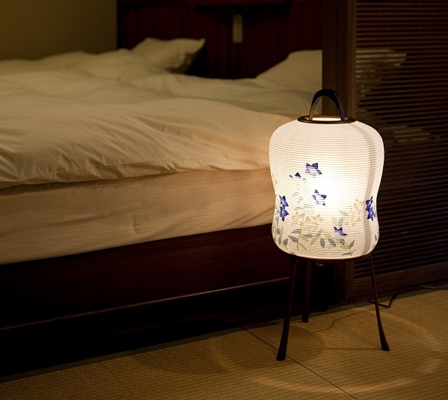 Thin, translucent Japanese paper, printed with delicate autumn plants and warm, pop motifs. The Kikyo series presents a cool impression. The Suzuro series features a motif design with unique and approachable color tones and textures, using a "Surikomi" printing technique with Ise mold paper.
Skilled artisans carefully wind the sticks, apply Japanese paper, and cut with a razor into a lantern shape. The handle is decorated with ebony and rosewood, which also reflect Asano's special attention to details.

Item number
Suzuro(s):3811-L
Kikyo(s): 3813-L  
Manufacturer
ASANO CO., LTD
URL
E-mail
Product Information
Material: washi paper, natural wood
Size: 21cm(φ) × 47cm
Pattern: Suzuro/Kikyo
LED with a push-type switch
LED battery light: LC402 (with a switch) including three size AA alkaline batteries for trial

Comment
An application for design registration has been filed.
JPW005301