BIN-stand LED cordless type
A bottle-shaped lantern lighting stand creates a peaceful atmosphere.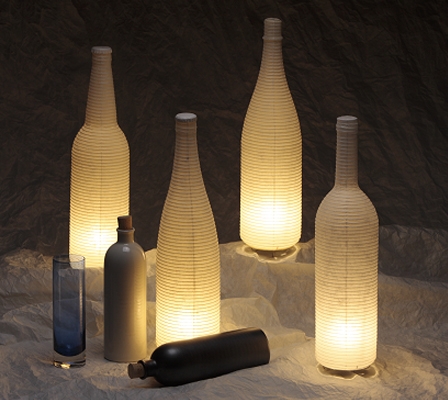 The simple and ordinary bottle shape is precisely reproduced in a lantern. These playful lighting stands are, of course, handmade individually. The light passing through the airy, warm Japanese paper and the humorous shape like a real bottle bring a special atmosphere to the room. This product is contained in a fancy package, which makes a perfect gift.
Item number
A:1141,K:1142,S:1143,W:1141
Price
BIN-stand A/K/S/W JPY10,000
Manufacturer
ASANO CO., LTD
URL
E-mail
Product Information
BIN-stand A – beer bottle shape
BIN-stand K – Kirin beer bottle shape
BIN-stand S – Japanese sake bottle shape
BIN-stand W – wine bottle shape
Material: kozo washi paper, PET sticks, SUS plate holder
Size: 12cm(φ) x 47cm
Power: LED cordless 3/3 battery light S-AZ (with a switch) including three size AA alkaline batteries for trial

Comment
It is possible to print labels and letters on the plain Japanese paper for a gift. For details, please contact us.
JPW005302