AKARI 1N
The beautiful "akari (light)" transmitted through Japanese paper.
This light sculpture has received high praise internationally.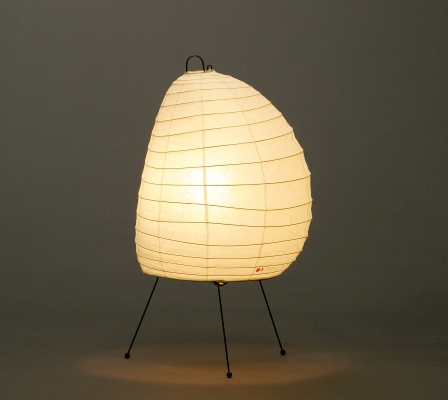 This lighting equipment was designed by Isamu Noguchi, a well-known sculptor in America. In 1951, in collaboration with internationally-renown sculptor, Isamu Noguchi, we launched the "AKARI" brand, which is valued for its artistic quality as lighting sculpture. A number of AKARI products are manufactured at our dedicated factories, including attractive lighting equipment made of Japanese paper. It features leg parts made of three thin metal wires in order to make the weight as light as possible. You can place it at your bedside, on a side table, or on the floor. This item has been exhibited at MoMA in the US and other museums and galleries around the world, gaining high praise for its artistry.
Manufacturer
OZEKI & CO.,LTD
TEL
+81-58-263-0111
URL
http://www.ozeki-lantern.co.jp
E-mail
Product Information
Material: Kozo washi paper, bamboo, iron
Size: Diameter 240 mm x H 410 mm
Weight: 200g

Comment
Overseas agencies are responsible for sales in Europe and the US. For the other countries, please contact the Isamu Noguchi Foundation in America. http://www.noguchi.org
JPW009301