Omunioutil
There are limitless ways to use this stool basket with a top.
It will make you a storage master in every situation.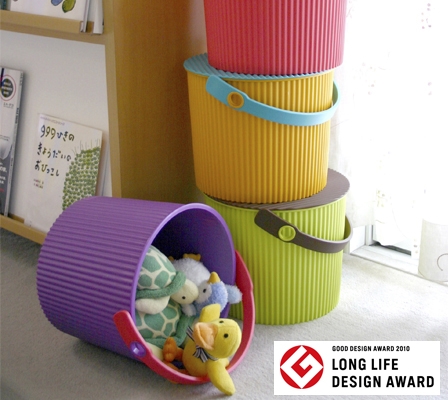 This Omunioutil is designed in a cardboard motif. The pop color becomes an interior design accent. With the lid on, the overall load bearing can sustain 150kg. It can therefore be used as a simple stool. You can also pile it up to save storage space. It can be used in different ways, for example, storing toys, organizing items, storing vegetables and rice in the kitchen, putting laundry, soaking clothes in water before washing, or as a cleaning bucket. In outdoor settings, you can bring leisure goods and work tools in this Omunioutil to the sea, mountain, or river. It can serve as an outdoor stool. When washing your car, it works as a tool box, a stepstool, and a chair. The handle has a hole to attach a hose to prevent it from coming off due to the water pressure.
Price
S:JPY 1,300 L:JPY 1,500 LL:JPY 2,200
Manufacturer
Hachiman-kasei. co., ltd.
TEL
+81-575-67-1175
URL
http://www.hachimankasei.co.jp/
http://www.hachimankasei.co.jp/english/index.html
E-mail
Product Information
Material:
body/lid/handle - polypropylene
ring - polyethylene

Size:
S - W 271 x D 254 x H 211 mm
L - W 282 x D 267 x H 265 mm
LL - W 330 x D 312 x H 338 mm

Volume:
S - 8L, L - 10L, LL - 20L

Color:
A total of 5 colors including green, pink, purple, orange, turquoise blue

Comment
This Omnioutil won the Good Design and Long Life Design Award in 2010.
OTH002401