Queuger
Flexibly bendable, stylish and useful wire. Various applications are possible depending on your ideas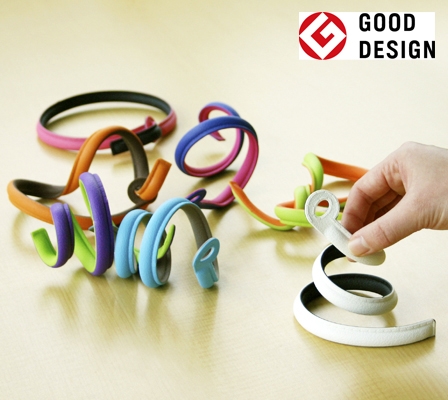 This versatile wire can be smoothly bent into any shape without applying extra force. To bind documents, reinforce the handle of an eco-bag, attach a bag to the bicycle basket to protect against theft, and more, this useful Queuger works in various daily situations. You can bring it with you for outings or when traveling. The combination of two different colors gives a jolly impression. A mini size and 46cm regular size are available. The mini size is perfect for binding the cables of gaming machines and batteries as well as organizing clutter in a bag.
Price
Mini JPY 600
460 JPY 1,200
Manufacturer
Hachiman-kasei. co., ltd.
TEL
+81-575-67-1175
URL
http://www.hachimankasei.co.jp/
http://www.hachimankasei.co.jp/english/index.html
E-mail
Product Information
Material: elastomer, aluminum

Size:
Mini - W10 x W5.5 x H210 mm
460 regular - W13 x D8 x H460 mm

Color:
A total of 7 colors for Mini size -
white&black, black&pink, brown&orange, gray&blue, orange&green, pink&blue, green&purple

A total of 16 colors for 460mm regular size -
white&black, pink&black, green&black, purple&black, purple&white, green&white, orange&white, blue&white, orange&brown, blue&gray, green&blue, green&orange, green&pink, green&blue, purple&green


Comment
This is a Good Design Award winning product.
OTH002403