APYUI MULTI STAND
Little house to store the lid of a frying pan or pot.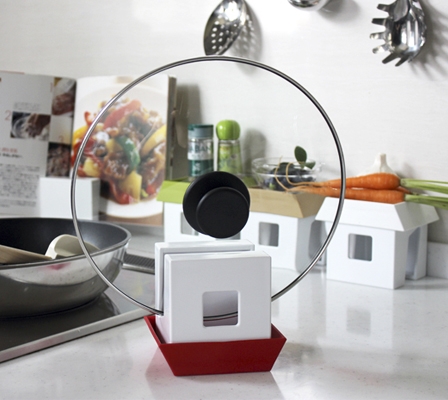 During cooking, you may often have trouble finding a place to put the lid of your frying pan or pot. This lovely house-shaped stand solves this problem. It can hold lids as large as a hot plate. The other side can accommodate cooking tools, such as chopsticks and spatulas. You can store spice bottles under the roof. Just by putting it on the table, your kitchen will be decorated in a lovely way.
Price
JPY 1,000
Manufacturer
Hachiman-kasei. co., ltd.
TEL
+81-575-67-1175
URL
http://www.hachimankasei.co.jp/
http://www.hachimankasei.co.jp/english/index.html
E-mail
Product Information
Material:
Body - ABS, Tray - elastomer

Size:
Body - W 86 x D 86 x H 86 mm
Tray - W 110 x D 93 x H 28 mm
Weight - 150g

Temperature limit:
body - 100 degrees C
tray - 70 degrees C

Color:
white, camel, red, green, blue

Comment
The pastel color variations, rather than vivid ones, are intended to blend softly into the kitchen atmosphere.
OTH002405