Flower Pen
Ball-point pen with a pressed flower enclosed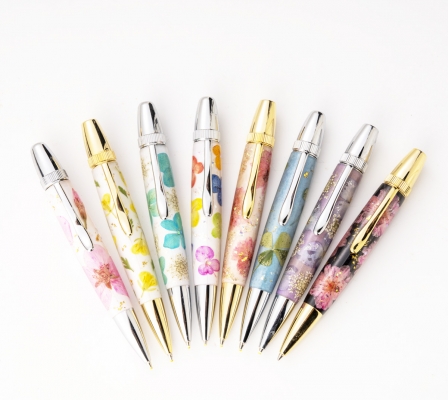 It is an unfortunate fact that any live flower will wither and lose its beauty.
In hopes of preserving the beauty of the flower for a long time, our company worked with craftsmen for over 3 years to develop this Flower Pen.
This Flower Pen has enclosed a flower as if it is trapped in ice. It is a perfect gift for flower lovers to always feel the four seasons of Japan.
The concept of this pen originated from a flower grower coming up with an original cultivation method that colored the petals. This was then developed by a florist in Hida Takayama as the "pressed flower sheets."
We hope you enjoy this special pen.
Item number
TFB2020 Flower Pen
Price
12, 000 yen
Manufacturer
F-STYLE Co.,ltd
TEL
058-227-5222
URL
https://www.f-style-japan.com/
https://f-style-goods.jimdo.com/
E-mail
Product Information
Body materials: Epoxy
Resin size: 125mm x 14mm
Weight: About 34g
[accessories]
・With paper box case
・Parka type extra lead 0.7mm (from the initial loading)
Comment

Avoid high temperatures and preserve in a cool place.

Metal fittings: Confirmed to be compatible with below product made by German DAYACOM company.
・Parka type: Extra lead 0.7mm (black) for oiliness ball-point pen
※Please select "a parka type" at the stationery shop when purchasing.
OTH015603