Mino-washi paper cloth mask (Lace)
Washable paper cloth mask!
~Using Mino-washi paper cloth~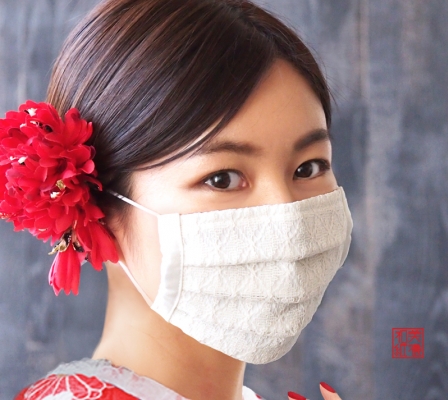 Mino-washi paper Cloth uses washi threads for the weft threads.
The thread of washi paper is twisted by bundling the fibers of string-shaped washi.
Since this thread has a hollow core, it absorbs sweat in the summer, and it provides insulation in the winter.
In addition to being a soft fabric that is uncharacteristic for washi paper, it is light and breathable making it wearable all year round.
A flat and fluffy rubber is used for the ear loop of the mask. This makes it comfortable to wear for an extended period of time without hurting your ears.

This is an elegant mask with lace.
Item number
24-016
Price
JPY1,400+tax10%
Manufacturer
Estco.,ltd.
TEL
058-297-1011
URL
E-mail
Product Information
[Size]
Approx.8×17.5cm
[Material]
Body: 54% Washi, 46% cotton
Lace part: 33% Nylon,21% Washi,18% Rayon
[Spec]
With nose wire
[Function]
Antibacterial and deodorant
High water absorption and moisture retention
Excellent breathability
TEX016606