HIDA Series
Furniture series made with compressed Japanese cedar, designed by a prominent Italian industrial designer, Enzo Mari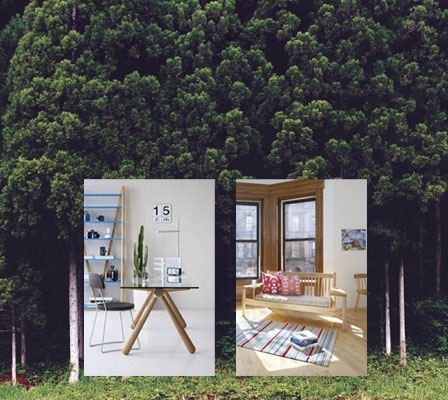 The HIDA Series is made with durable steam-compressed Japanese cedar.
"Chair EM200" features stylish yet charming design. The seat is pressed with our 3D compression system using the mold specifically designed to form ergonomic seats.
"Table EM307G" is consisted of simple parts assembled to form an impressive design. Absolute elimination of excessive ornamentation married with warmth that is naturally brought out from its soft form.
"Shelf EM590" - Vivid blue applied with our advanced painting technique adds an accent to your room. None of the hardware is visible from the front. Enjoy placing your favorite items to display.
Manufacturer
Hida Sangyo Co., Ltd.
URL
E-mail
Product Information
HIDA Series includes dining room, living room furniture, beds and more.
Material: Compressed Cedar

- Chair EM200
Dimensions: 38.5W × 48cD × 78.5H (cm)
Seat Height: 43cm
Dark stain (BK) is also available

- Shelf EM590
Size: 90W × 40D × 200H (cm)

- Table EM307G
Materials: Tempered Glass and Oak (This is the only furniture piece made with Oak in the HIDA series)
Size: 231W × 72D × 72H (cm)
Dark stain (BK) is also available
Various sizes available

Comment
- Made of domestically grown Japanese cedar
- Made-to-order furniture collection
WDF000801