Yamazakura (wild cherry tree) Cutting Board [small, circle, square]
Hard and tough Yamazakura Cutting Board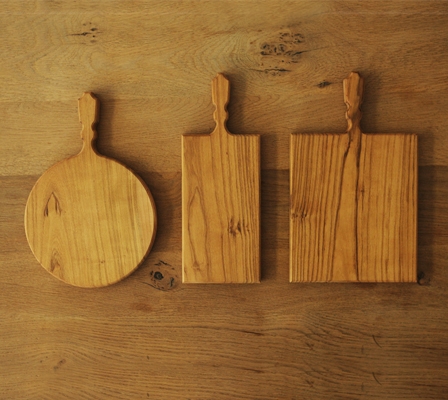 As the texture of this cutting board changes over time, even knife marks help improve the wood's features. The hardness and sturdiness of the Yamazakura wild cherry tree provide resistance to scratches from serrated blades, like bread knives. The product line includes small, circle, and square boards. The small cutting board is suitable for occasions like picnics or camping. The circle shape is appropriate for holding a pizza or a whole cake. You can use this board to cut cheese, fruit, and bread on the table. It will be your long-term partner in the kitchen. All three of the shapes are made of a single board of home grown trees and finished with an oil coating.
Price
[Small] JPY7,500
[Circle] JPY9,300
[Square] JPY9,300
Manufacturer
woodpecker
URL
http://www.hello-woodpecker.com
https://www.instagram.com/woodpecker2007/
E-mail
Product Information
Material: oil-coated Yamazakura wild cherry tree
Size:
[small] approx. 345 × 130 × 23 mm (approx. 245 × 130 mm without a handle)
[circle] approx. 325 × 230× 23 mm (approx. 230 × 230 mm without a handle)
[square] approx. 345 × 210 × 23 mm (approx. 245 × 210 mm without a handle)

Comment
- As the cutting board is made from natural wood, the color and grain may vary piece by piece.
- As all products are handmade, the size and shape may be slightly different from those described above.

WDF001701