Yamazakura Plate [size S/M/L]
Featuring beautiful Yamazakura grains and smooth touch.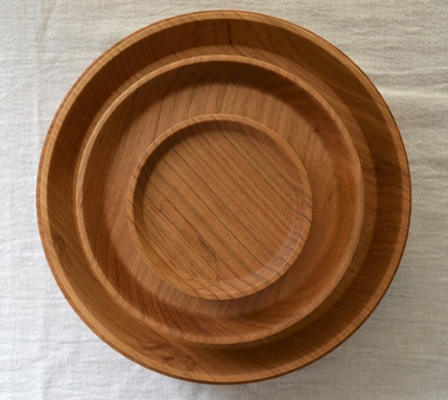 This is a beautiful plate made from Yamazakura wild cherry tree, smooth to the touch with a distinctive wood grain. Yamazakura has sturdy quality and a delicate surface. The reddish surface will shine when polished. In addition, Yamazakura is characterized by less warping and high resistance. It explains why Yamazakura was used as an engraving board for Ukiyoe, the representative art of the Edo period. You may want to have the plate by your side all the time, because of the warmth of the natural wood and the round shape. You will also enjoy seeing how the color changes in tone over time. A single board of home-grown Yamazakura tree is used and finished with a natural oil coating.
Price
[S] JPY3,500
[M] JPY4,900
[L] JPY7,500
Manufacturer
woodpecker
URL
http://www.hello-woodpecker.com
https://www.instagram.com/woodpecker2007/
E-mail
Product Information
Material: oil-coated Yamazakura wild cherry tree
Size:
[S] approx. 150 × 150 × 23 mm
[M] approx. 210 × 210 × 30 mm
[L] approx. 240 × 240 × 30 mm

Comment
- As the plates are made from natural wood, the color and grain may vary piece by piece.
- As all products are handmade, the size and shape may be slightly different from those described above.

WDF001702