MASU Set
A set of traditional wooden Masu boxes with a simple, cuboid shape.
The elegant look represents the wisdom and skills of artisans.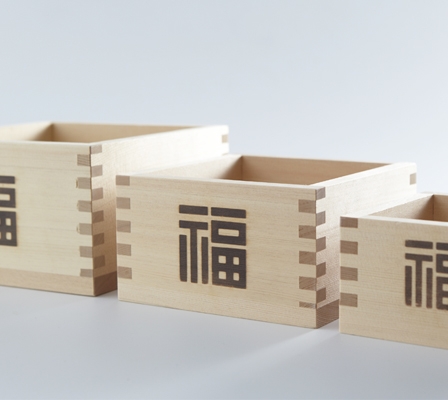 The traditional wooden Masu box is a simple cuboid, which is a tool to measure volume accurately. The manufacturing process therefore requires extreme precision. First, four side boards are cut out in an exact way and assembled. After attaching the base, it is finished by shaving with a plane. Although it is processed mostly by machines, delicate work by hand is still necessary in many steps. Our artisans' wisdom and skills are applied to the process of cutting the material to the exact size, assembling pieces, grinding, and polishing. In that way, our beautiful and functional Masu boxes are produced. A set includes an ichigo masu (180mL), a nigo masu (450mL), a gogo masu (900mL), and an issho masu (1800mL).
Price
JPY 4,280 (plain)
Manufacturer
Ohashi Ryoki Ltd.
URL
E-mail
Product Information
Material: Hinoki cypress
Size:
Ichigo masu (180mL) - W85×D85×H56mm

Nigo masu (450mL) - W115×D115 ×H64mm

Gogo masu (900mL) - W140×D140×H76mm

Issho masu (1800mL) - W172×D172×H93mm

Comment
Plain masu boxes and boxes with other patterns are also available. Please contact us.
WDF002703