MAST
Eco-friendly humidifier that requires no electrical power.
It emits the fresh fragrance of cypress.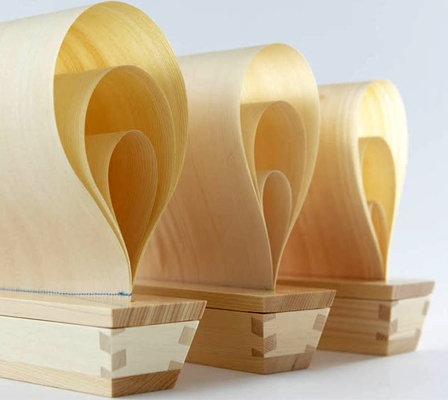 MAST is an eco-humidifier that utilizes natural evaporation instead of electrical power. MAST, which resembles a sailboat and its mast, catches the breeze with its sail and adds moisture and the subtle aroma of cypress through natural evaporation. For the sail part, we use wood shavings obtained from the process of Masu box making, which are usually discarded. The boat part is assembled by using the Masu box manufacturing method. Fill the boat with water, and the mast absorbs moisture and lets it evaporate naturally. It looks like a sailboat floating on water, giving you a visual sensation of coolness.
Price
JPY 7,000
Manufacturer
Ohashi Ryoki Ltd.
URL
E-mail
Product Information
Material: Japanese cypress
Size: W 200 x D 50 x H 155 mm

Comment
- Japanese cypress contains a high proportion of natural anti-bacterial, anti-mold, and bug-proof constituents. However, as they are natural elements, their active effects cannot be ensured.
- As you use it, some patterns appear in the middle of the sail. They are naturally derived from the natural constituents.
- Depending on the condition of use, it may cause some mold. In that case, please replace it with a new one.

WDF002704