Mini-size Sawara Cypress Sushi Bowl with Copper Hoo
Sushi bowl for making tasty sushi rice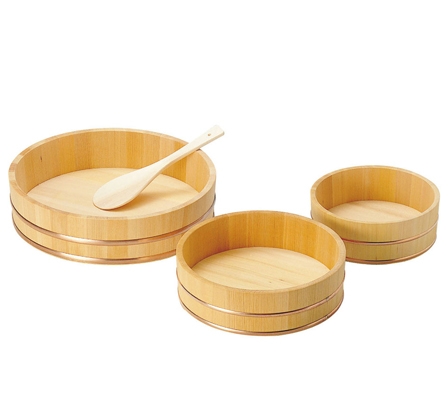 This sushi bowl works perfectly to make a large amo
unt of sushi rice at parties and meetings to welcome a number of guests.
To make delicious sushi, rice is as important
as the toppings. This bowl is made of Sawara cypress that features water-and acid-proof properties.
The Sawara cypress absorbs extra vinegar when the sushi rice is prepared, preventing the rice from getting too sticky.
In addition to those listed, various types and sizes are available both for home-use and professional-use.
Item number
S:04284 M:04283 L:04281
Price
S) JPY 6,300
M) JPY 7,300
L) JPY 9,200
Manufacturer
Yamacoh Co., Ltd.
TEL
+81-573-75-3470
URL
http://yamaco.jp/kaigai/engpage.html
E-mail
Product Information
Size/Volume:
S) Diameter approx. 30 x H 9 cm / approx. 0.54 liters
M) Diameter approx. 33 x H 9 cm / approx. 0.9 liters
L) Diameter approx. 39 x H 10 cm / approx. 1.8 liters

Material:Sawara
Comment
- Contact us for items with sizes and specifications other than those listed above.
- As it is made of natural wood, the color tone and wood grains may be slightly different from those in the pictures.
- The actual size may vary from that seen in the image.
WDF003203