Forest Animal Blocks
To make a connection between parents and child, a tie with the soul, and a link to the earth.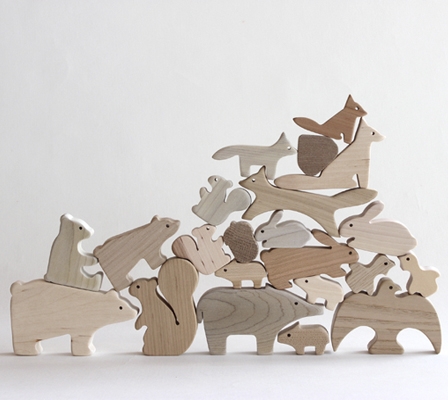 Professionals in Hida Takayama crafted these blocks in the shapes of Japanese forest animals. They are made with domestically-grown wood and finished without coating. Five different tree species are employed as a material, including cherry, chestnut, and others. Each block has its species name branded on it with a hot iron. The package and accompanying pamphlet are also designed to be enjoyable. We hope that children play will with these blocks for many years, believing that they can play a different role depending on the stages of a child's development. Forest Animal Blocks won the Good Toy Award and the award from the Director of the Forestry Agency in 2013.
Manufacturer
Oak Village
URL
E-mail
Product Information
Content: A total of 22 blocks including bear, hawk, wild boar, rabbit, squirrel, fox, acorn, chestnut, and others.
A pamphlet that describes the animals and how to play.

Size:
Biggest piece - W 12 × D 2 × H 7 cm
Smallest piece - W 5 × D 2 × H 3 cm
Box - W 32.5 × D 32 × H 3.3 cm

Weight: approx. 800g with all blocks in the box

Material: cherry, Japanese big-leaf magnolia, chestnut, white birch, oak

Finish: non-coated

WDF003602