Forest Choir
Amazing xylophone with keys of different tree species arranged in an octave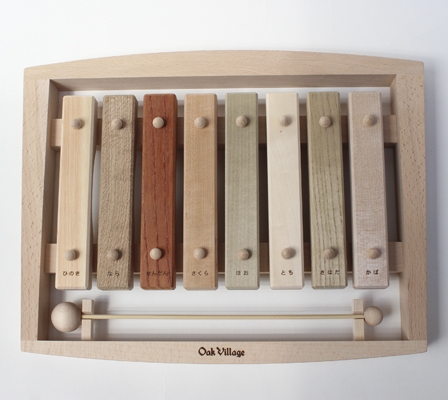 Usually, a xylophone consists of keys of different lengths to play music. However, the keys of this Forest Choir are all the same length. The individual sounds are derived from the different densities of each tree species. The respective keys have the species name branded on them with a hot iron, which makes it easy to learn about trees while playing. Since they are made of domestically-produced solid material and finished without a coating, it is safe for children to play. Forest Choir won the "Good Toy Award" in 2009.
Manufacturer
Oak Village
URL
E-mail
Product Information
Size: W 38 × D 29 × H 5.5 cm

Weight: approx. 1.7kg (may vary depending on the item)

Material: beech, Japanese horse-chestnut, Japanese big-leaf magnolia, birch, hinoki cypress, Melia azedarach, etc.

Finish: non-coated

Comment
The xylophone and sticks are finished without coating for the safety and health of children. The temperature and humidity may affect the uncoated blocks, causing the wood to stretch and shrink from day to day or with the seasons. Therefore, the sound may vary.
WDF003603