Small Forest Choir (Japanese Tune)
6-tone xylophone with keys made of different tree species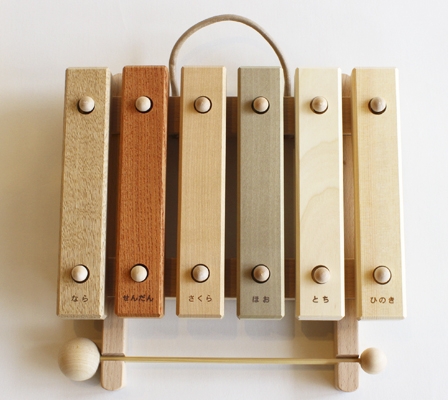 The individual keys are made of different tree species. The "Forest Choir series" can play a musical scale, even though all of the keys are of the same length. This mini version comprises the six notes that are frequently used in Japanese nursery rhymes. No matter how randomly you play, it will create a gentle melody. Your child will be able to compose a wonderful piece of music with a free spirit. Professionals are responsible for tuning by checking the sound and shaving the back of the keys little by little. Each key has the name of its tree species branded on it with a hot iron.
Manufacturer
Oak Village
TEL
+81-577-68-2244
URL
E-mail
Product Information
Size: W 21.8 × D 21.2 × H 4.8 cm

Material: beech, oak, Japanese horse-chestnut, Japanese big-leaf magnolia, cherry, hinoki cypress, Melia azedarach, maple, etc.

Finish: non-coating

Comment
The xylophone and sticks are finished without coating for the safety and health of children. The temperature and humidity may affect the uncoated blocks, causing the wood to stretch and shrink from day to day or with the seasons. Therefore, the sound may vary.
WDF003604