Humming Armchair
The simple and serene design features smooth and beautiful forms.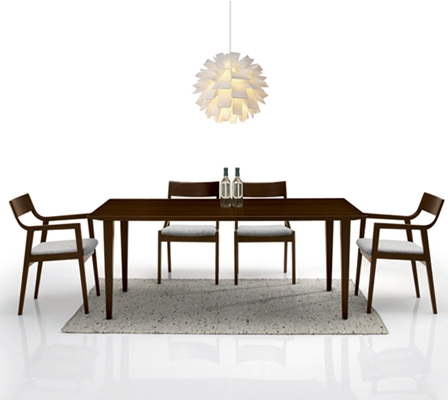 For the Humming armchair, the original technique of "compression bentwood" is used to bend a wood material maximally for the armrests. It requires sophisticated skill to achieve both the airy design and the stout structure. Almost all of the manufacturing processes for the Humming series are carried out in Ibata Interior's own factory, including the selection of the wood materials, processing, painting, sewing, and assembly. The precisely created quality furniture with its curved outline is the height of the artisan's skills and the latest technology, such as 3D processing and 3D bentwood.
Item number
DCA-161
Manufacturer
Ibata Interior Co., Ltd.
URL
E-mail
Product Information
Size: W 500 × L 550 × H 780 mm
420 mm (Seat Height) 620 mm (Armrest Height)
Material: Grade-A Monterey SGR
oak (color: N15, FB), walnut (color: BW), cherry (color: CH)

WDF003701