mugi chair
Plain, wheat-like furniture that fits naturally into any atmosphere and matches well with different furniture.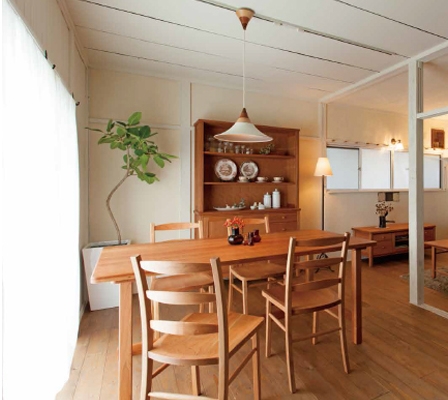 The simple design capitalizes on the quality of the materials and gives your deeper appreciation for it over time. Each chair is carefully produced.
The name "mugi" means wheat in Japanese. The magical, plain mugi powder (wheat flour) is blended into a variety of foods and dishes, such as bread, pasta, fried foods, and sweets. Like wheat flour, the mugi series is modest yet versatile contribution to your lifestyle. In addition to the dining table and chairs, you can enjoy coordinating a room with our center table, cupboard, two-seater sofa, and other pieces.

Manufacturer
KOMAYA Co., Ltd.
URL
E-mail
Product Information
Material: black cherry
Size:W430×D516×H838 mm
435 mm(Seat Height)
Coating: oil-finish

WDF004003