Stool with armrests
A stool that kindly welcomes you at the door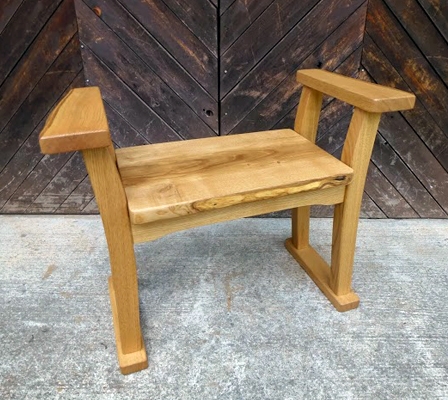 This stool is convenient when you remove or put on your shoes at the door. It also helps when putting on a pair of long boots. You can rest luggage on it a little while. It is safe to use, especially by elderly people, allowing them to stand up by holding the arms with both hands. Finished with an oil coating, the chestnut stool has natural gloss. Each chair has a different appearance due to a design that emphasizes natural textures.
Manufacturer
Ojikano Workshop of Wood
URL
http://www.seiryu.ne.jp/~ojikano/
E-mail
Product Information
Material: chestnut
Coating: oil-finish
Size: approx. W 600 × D 360 × H 550 mm (seat height 400 mm)

Comment
As solid materials are used, the color tone and wood grain may vary for each item.
WDF005001