Bench with armrest (Assembly type)
Great to use for a break and reading. Convenient assembly type bench.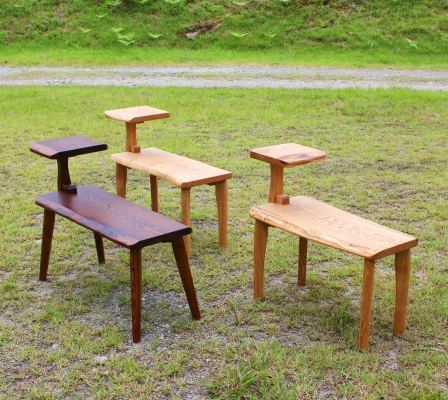 A bench that utilizes the natural texture of wood.
The wide armrest can be used like a side table to place a cup of coffee or a book.
The armrest can be attached to either the right or left sides.
By taking the armrest out, it can be used as a stool or a low table.
Separable into four parts: Seat plate, Legs, Armrest and Armrest receiving section, making it compact to take home.
The chestnut bench is finished with an oil coating, giving it a natural gloss, and the Japanese ash bench has a rich wipe-lacquer finish. Each chair has a different appearance due to a design that emphasizes natural textures of wood.
Price
¥35,000(chestnut・oil-finish)
¥45,000(Japanese ash・wipe-lacquer)
Manufacturer
Ojikano Workshop of Wood
TEL
+81-576-27-1808
URL
http://www.ccn.aitai.ne.jp/~ojikano/
E-mail
Product Information
Material: chestnut or Japanese ash
Coating: oil-finish or wipe-lacquer
Size: approx. W 705 × D 300 × H 632 mm (seat height 403 mm)
Comment
- Due to the solid wood material, the color tone and wood grain may vary for each item.
- Some people may get a rash from the natural raw lacquer.
WDF005008