Wheelchair
It looks like an ordinary dining chair. We develop this wheelchair with the hope that the user will have a wonderful time with family members.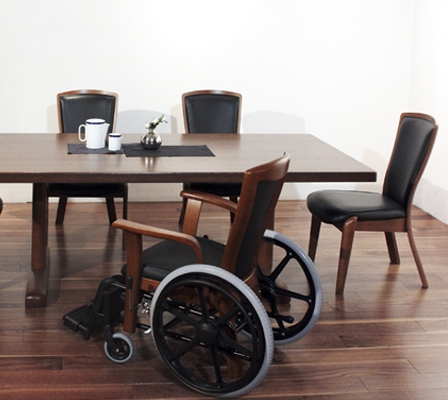 Despite being a steel wheelchair, it creates a warm atmosphere when all of the family gets together around the table. Behind the birth of this wheelchair, there is the story of a furniture maker. One day, the furniture maker received a request to produce a dining chair for someone who has a disability in the legs to dine with the family. However, the furniture maker himself suffered hemiplegia in the middle of the manufacturing process. Shirakawa has taken up this will and developed this wheelchair. We believe that this chair can play a significant role in making family memories.
Item number
S-701-WS SO artificial leather Grade B/More 6
Manufacturer
SHIRAKAWA CORPORATION
URL
E-mail
Product Information
For more information, please contact us.
Comment
- The tubeless 20 inch wheels allow for tight turning.
- The anchor support prevents sliding down from the seat surface.
- Handles for a caregiver are optionally available.

WDF005701