tonono Food Plate konami
Uniquely shaped food platter with less warpage.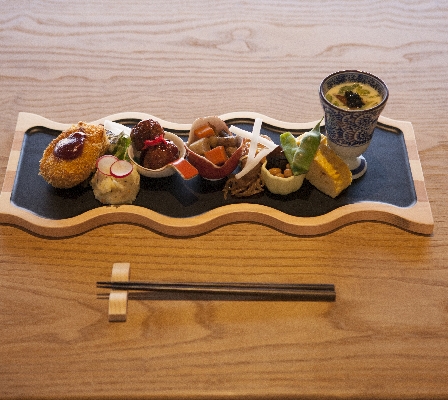 konami is a platter perfect for serving breads, hors d'oeuvres, sushi and more. When it is turned over, the other side serves as a cutting board. Its unique design will add some fun to your tabletops. It is made of Japanese cedar and cypress from Gifu Prefecture. Solid wood boards typically warp easily over time; however, the tonono series is warp-resistant due to our special processing technology.
Manufacturer
NAIKI MOKKOSHO Co., Ltd.
TEL
+81 573-82-4558
URL
E-mail
Product Information
Dimensions:
L 600 × W 120 × T 27 mm (Large)
L 300 × W 120 × T 27 mm (Small)
Material: Natural wood (hinoki cypress)
Weight: 520g (Large), 260g (Small)
Finish: Urethane resin coating
Comment
- Do not microwave or use dishwasher
- Wipe clean with damp cloth
WDF006703