WOODEN-BATH TUB O-Bath D
Excellent, advanced design of cypress bathtubs that satisfy the five senses by wrapping you with the warm atmosphere of a bathroom.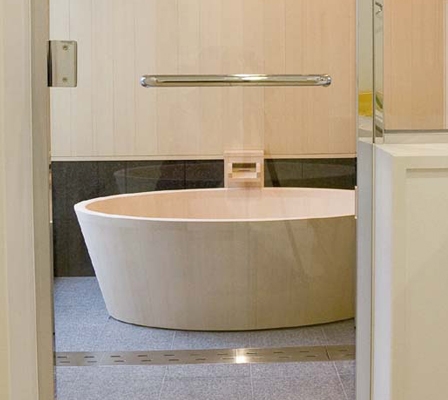 It is usually considered impossible to create a bathtub with a free shape method.Hinoki Soken, however, has made it possible, based on the technical developments that we have established through wooden bathtub making. Especially, the characteristic structure does not require metal "hoops," which are seen as essential to R-shape bathtubs. The O-Bath was developed in collaboration with the world-renown designer Motomi Kawakami. We have achieved this modern design by distilling Japanese taste. This excellent product has received high praise from both domestic and international customers, and it won the Good Design Award 2010.
Item number
O-Bath D
Price
Kiso hinoki JPY 2,000,000
Aomori hiba JPY 1,580,000

Manufacturer
Hinoki Soken Co., Ltd.
URL
E-mail
Product Information
Material: Kiso hinoki cypress, Aomori hiba
Outer diameter: 1,700 × 1,100 × 530 mm

Comment
With its excellent FRP waterproof property, this bathtub can be used to not only in detached houses but also in apartments and hotels.
* Excessive moisture and dryness may cause mold and cracks. Please contact us for further handling instructions.

WDF007301