plywood wall clock
"Telling time"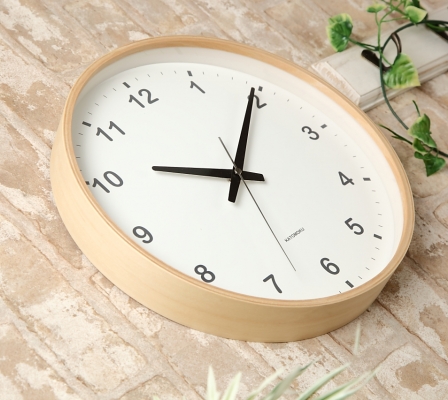 Here at KATOMOKU Inc., our bentwood is made with two pieces of plywood adhered to shape a round form.
We have started incorporating this dying technique and producing bentwood products in November of 2008.
Looking from the front, layers of wood are shown on the rim of clock frame, and the beautiful wood grain appears on the outer surface.
Item number
km-33
Price
Size M: JPY 7,020 (excluding tax)
Size L: JPY 7,560 (excluding tax)
Manufacturer
KATOMOKU Inc.
URL
E-mail
Product Information
Dimensions:
    Size M - 252 DIA. x 50mm
    Size L - 304 DIA. x 50mm
Materials: Japanese Lime, MDF
Weight: Size M 500g
    Size L 700g
Specification: SEIKO Sweep Movement
Accessories: Screw for hanging, instruction manual, warranty and AAA batteries
JAN (Japanese Article Number):
    Size M 4560410070810
    Size L 4560410070827

WDF014801