KATOMOKU Stamping Mat
A piece of stationery you would want to show off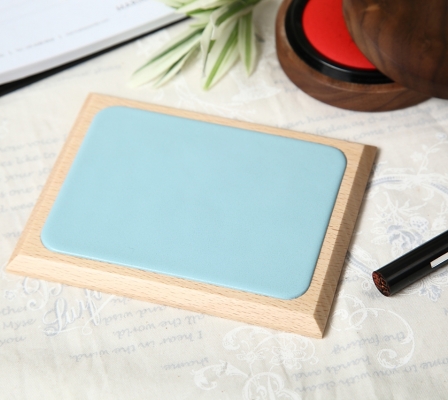 Think of when you were asked for your signature by a banker or an insurance agent. Didn't he or she let you borrow an expensive pen? Would you let someone borrow an expensive pen if it were you? They did so because you are the client. Then why are the stamping mats always green and made of rubber?
"KATOMOKU Stamping Mat" is made of a solid wood panel and a natural leather mat.

We offer our stamping mats in two colors;
    "Natural" made of beech
    "Brown" made of walnut.
They are available in two styles;
    km-04 with 45-degree angle beveled edges
    km-05 with round-chamfered edges

Three additional colors, light blue, pink and orange are now available for model km-04.

Item number
km-04

Price
JPY 3,000 (excluding tax)
Manufacturer
KATOMOKU Inc.
URL
E-mail
Product Information
Dimensions: 115×90×8.0mm
Materials:
    Natural - Beech
    Beech - Walnut
    Natural Leather
Weight: 80g
JAN (Japanese Article Number):
    km-04N -4560410070094
    km-04B -4560410070087
    Light Blue -4560410070728
    Pink -4560410070735
    Orange -4560410070742
Note: 45-degree angle bevel(km-04)
    Japanese Patent Number 3182215

WDF014805