tya-haku
A collection of white porcelain teacups and a teapot that will help bring out the flavor of tea and make tea time casually delightful.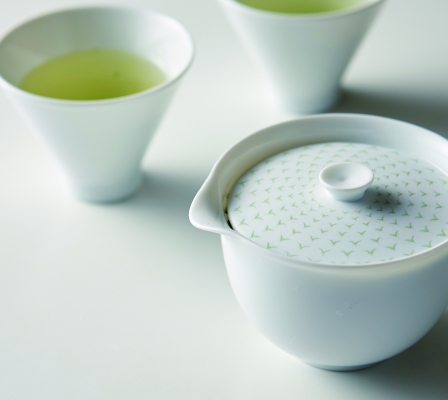 TYA-HAKU is developed in collaboration with Kikunoen, the manufacturer of "SHIRAKAWA-CHA (Shirakawa-tea)".

[Teacup (Sencha-wan)]
The form of the cup that flares out at the top, called the morning glory shape, helps the scent of tea to spread, allowing you to enjoy both the scent and flavor at once.

[Teapot (Hohin-kyusu]
Hohin-kyusu is the traditional teapot designed to brew one cupful of tea at a time, letting you enjoy the last drop of tea.

Fired at the high temperature of 1,340 degrees Celsius, the surface of these teapots and teacups become vitrified, preventing stains and making them easy to clean. The tea leaf motif is available in 5 colors.
Item number
[Teapot (Hohin-kyusu)]
Fukamushi DBG: 67-052-120
Gyokuro LG: 67-052-121
Shirakawa LYG: 67-052-122
Raw tea leaf BG: 67-052-123
New leaf: 67-052-124

[Teacup (Sencha-wan)]
Fukamushi DBG: 67-084-120
Gyokuro LG: 67-084-121
Shirakawa LYG: 67-084-122
Raw tea leaf BG: 67-084-123
New leaf: 67-084-124
Price
[Teapot (Hohin-kyusu)] JPY 3,000
[Teacup (Sencha-wan)] JPY 1,000
Manufacturer
MIYAMA
TEL
+81-572-67-1522
URL
E-mail
Product Information
[Teapot (Hohin-kyusu)]
Dimensions: φ95 x 80mmH 160cc
Colors: Fukamushi DBG, Gyokuro LG, Shirakawa LYG, Raw tea leaf BG, and Newleaf

[Teacups (Sencha-wan)]
Dimensions: φ80 x 60mmH 80cc
Color: Fukamushi DBG, Gyokuro LG, Shirakawa LYG, Raw tea leaf BG, and Newleaf
CER001407