Moon
Moon-like indented tiles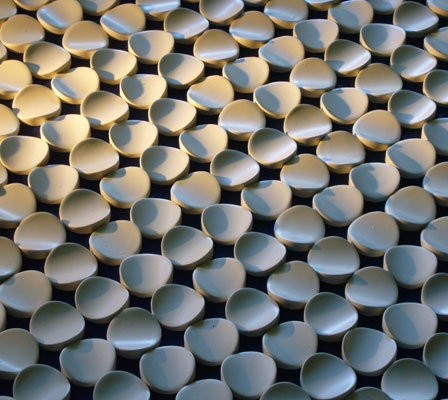 The shape will remind you of the phases of the moon. This delicately shaped tile is used for decorating wall surfaces. It is approximately 55mm in diameter and 13mm thick.
The combination of indented tiles creates an unexpected contrast between light and shadow. Each arrangement of tiles elicits a different impression.
It makes the wall surfaces a creative part of the interior. The color variations include ivory white and white glaze, both of which match well with every color.
Item number
MO-55
Manufacturer
Kenzan Co., Inc.
TEL
+81-572-55-1231
URL
http://www.kenzan-yakimono.com
http://www.kenzan-yakimono.com/english
E-mail
Product Information
Material: Glazed stoneware (Class II)
Dimensions: 55 DIA × 13 mm T (approx.)
Quantity Required: 319 pieces/m2 (tight joint)
Weight: 44g/piece (approx.)

Comment
- Due to the nature of ceramics, colors may vary slightly.
- Patterned tile sheets are not available for this product.

CER001501