Flower Circle
Attractive design with simple continuous patterns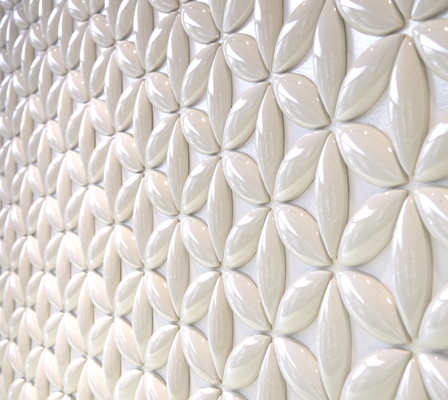 Dimensional form of a simple petal appears traditional yet modern.
Available in four finishes; white glaze, clear glaze, bright white glaze, and white clay.
The design is inspired by the pattern of Kimono (Japanese traditional garment) and western clothing.
Tile pattern layout and background color give you different impressions.
Item number
No.FCSB
Price
Design and material fee: JPY 21,600/㎡〜 (Shipping cost and sales tax not included)
Manufacturer
Kenzan Co., Inc.
URL
http://www.kenzan-yakimono.com
http://www.kenzan-yakimono.com/english
E-mail
Product Information
Material: Glazed stoneware (Class II)
Dimensions: 42×105×16mm H (approx.)
Quantity Required: 135 pieces/m² ~
Weight: 70g/piece (approx.)

Comment
- Due to the nature of ceramics, colors may vary slightly
- This product is sold individually or by the case
- Patterned tile sheets are not available for this product
CER001505