Minami Gama Tea Cup
Easy-to-hold tea cup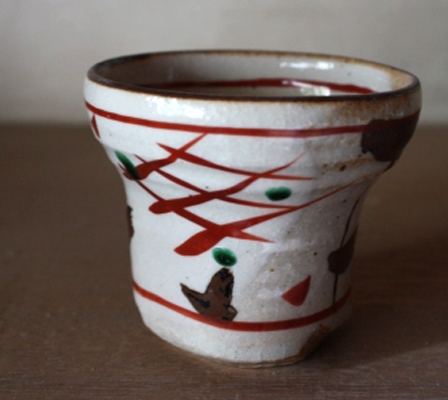 This is the most popular item in the Minami Gama product line. The distorted shape was incidentally achieved by spinning on a pottery wheel. It is now representative of Minami Gama tea cups. It can be used for various applications besides as a tea cup, including a coffee cup, a drinking vessel, a small serving bowl, a dessert bowl, and more. In addition, the lower part of the cup has a triangular shape, which makes this cup easy to hold and fit in your hand. The warmth of tea cup reflects the potter's personality.
Manufacturer
Minami Gama
TEL
+81-572-59-2430
URL
E-mail
Product Information
Size: approx. Diameter 9 x 7.8 cm, approx. 200mL


Comment
Microwavable, dishwasher-proof, and oven-proof
- There are three types: red-figured iron-brushwork grid pattern (red), Annam flower pattern (blue), and Oribe line pattern (green).
- Due to being handmade and hand-painted, each cup has a slightly different shape and pattern.

CER004201