Vermilion Red Soup Cup
Use this chic vermilion red cup and feel the goodness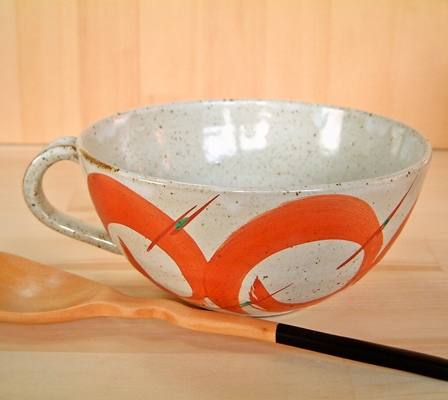 This is a useful cup for serving soup, salad, curry, gratin, and more. Various patterns are available, including circle patterns, engraved lines, stripe patterns, lines, stripes with dots, etc. This cup is microwavable, oven-proof, and dishwasher-safe. Feel the goodness when you use it.
Price
JPY 3,200
Manufacturer
Chizan-gama
TEL
+81-572-57-6570
URL
E-mail
Product Information
Size: W 160 x D 130 x H 65 mm
Material:Earthenware

Comment
- As each plate is handmade, the pattern, color tone, shape, and size may be slightly different from those shown in pictures, depending on where it is placed in the kiln during the firing process.
- The spoon is sold separately.

CER006301