Rikyu Nezumi Tea Set
The tea set that serves your time to relax perfectly.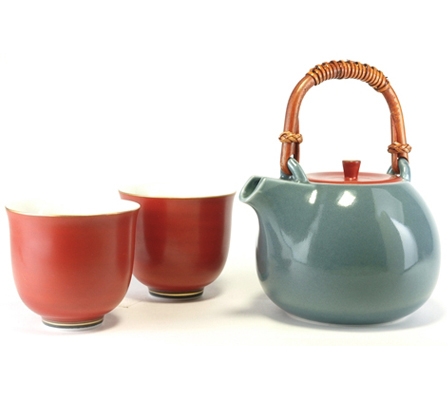 This is a set of a tea pot and two cups in a subtle greenish grey color, one that was favored by Sen no Rikyu, a historical master of the tea ceremony. The tea pot is equipped with a tea strainer. ZOHO-GAMA's best "Akamaki" technique is applied. It requires fine adjustment of the paint compound and application method, which is achieved only by Akamaki specialists. It is important to use traditional Japanese paint and also to select the appropriate coloring materials to obtain this deep red color.
Item number
PP‐1S
Manufacturer
ZOHO-GAMA
URL
E-mail
Product Information
Size: pot - 10.5cm x 8.5cm 350mL
cup - 6.8cm x 6.3cm 125mL (x2)
Material: pot body and cup - porcelain, handle - bamboo, tea strainer - stainless steel

Comment
- The items are contained in a gift box.
- Due to being handmade, the color, pattern, and size may be slightly different from those listed.

CER006902