Akamaki Sake Set
The Akamaki Sake Set is perfect for a party.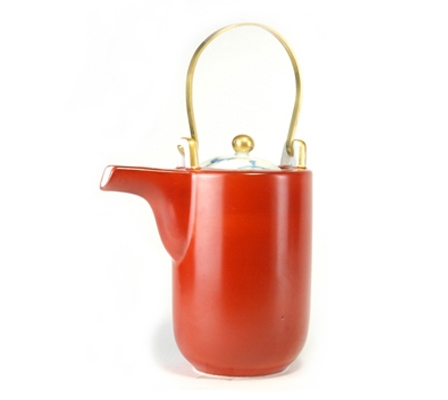 This set includes ZOHO-GAMA'S best "Akamaki" sake pot and two cups. The "Akamaki" technique requires fine adjustment of the paint compound and application method, which is only possible for specialists. The contrast between the gold handle/lid lifter and the red body leaves an elegant impression. Furthermore, the spout of the pot has a unique shape. The white in the open part of the spout, together with the blue and white lid, expresses a serene beauty. You will enjoy tastier sake with this sake vessel.
Item number
pot PP-4 cup QP-3
Manufacturer
ZOHO-GAMA
URL
E-mail
Product Information
Size: pot - 7.5cm x 12.8cm 280mL
cup - 5.6cm x 6.8cm 50mL (x2)
Material: pot body and cup - porcelain, handle - brass

Comment
- The items are contained in a gift box.
- Due to being handmade, the color, pattern, and size may be slightly different from those listed.

CER006903