Moegi Sake Set
Moegi-color sake set carries natural soft energy.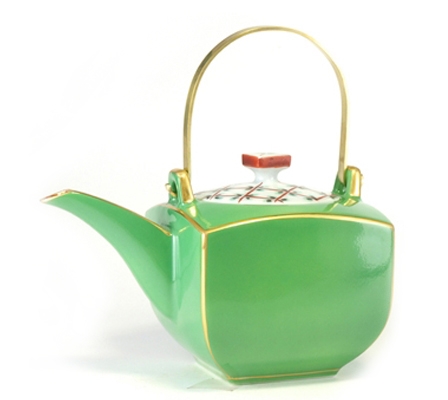 This set includes a sake pot and two cups in a Moegi color between yellow and blue. The pot consists of a moegi-green body and a white lid that has a checker-board pattern with a green dot in each square. This elegant sake set is designed by imagining the body as a moegi kimono, the lid as a belt, and the red line between the lid and body as a sash. ZOHO-GAMA develops original motifs by observing real plants along with the changing seasons. Around the ZOHO-GAMA studio, there are historical buildings of the Edo era and a shrine to worship the gods of fire and earth. In the garden, there are various plants, including Japanese maple, camellia, and others, which create peaceful and serene scenery. Believing that such a natural environment inspires us to design pottery patterns, we often walk around the garden and neighborhood carrying a sketchbook.
Item number
pot PP‐5 cup QP‐1
Manufacturer
ZOHO-GAMA
TEL
+81-572-23-6122
URL
E-mail
Product Information
Size: pot - 9cm x 9.5cm 330mL
cup - 5.8cm x 3.4cm 45mL (x2)
Material: pot body/cup – porcelain, handle - brass

Comment
- The items are contained in a gift box.
- Due to being handmade, the color, pattern, and size, etc. may be slightly different from those listed.

CER006904