Usuzumi Ohgi Sake Set
ZOHO-GAMA sake set for entertaining your guests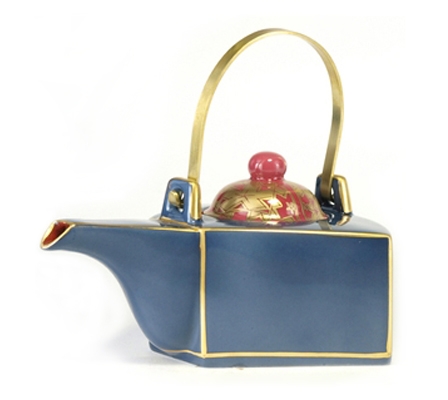 This Usuzumi Ohgi set includes a uniquely-shaped sake pot and two cups. The pot features a fan-like shape and an elegant color. The inner part of the spout is painted red. This sophisticated pot may remind you of a kimono. Please imagine the grey body as a kimono, the lid as a belt, and the red line between the lid and the body as a sash. This set of sake vessels will help you express your hospitality. Your guests will appreciate the vessels and enjoy tasty sake and delicious food.

Item number
pot PP‐6 cup QP‐2
Manufacturer
ZOHO-GAMA
URL
E-mail
Product Information
Size: pot - 11.6cm x 8cm 260mL
cup - 5.8cm x 4cm 20mL (x2)
Material: pot and cups - porcelain, handle - brass

Comment
- The items are contained in a gift box.
- Due to being handmade, the color, pattern, and size may be slightly different from those listed.

CER006905