FUDOH Oribe Rinka Large Bowl
The green glaze reminds you of a mountain scene in the Mino area. You can see nature in this bowl.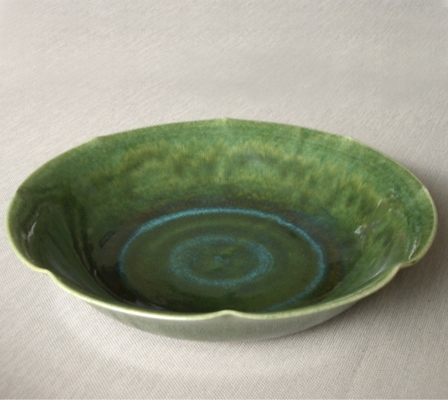 Particular about a color of pale green, an original Oribe color, Fudogama has been carrying on the Mino Ware tradition for several hundred years using only local materials, such as clay and glaze. For this Fudogama Oribe, we have applied a rich green glaze to the slightly twisted thin base. This tableware series gives a soft impression. The deep, expressive color adds a more appetizing presentation to the food served. This large Rinka bowl has a flat base, which allows large portions to be served beautifully.
Item number
O-1
Price
JPY 13,000
Manufacturer
Fudogama
URL
E-mail
Product Information
Size: Diameter 290 mm × H 65mm
Material: pottery

Comment
- Depending on the glazing and baking process, the color may appear differently. It may also cause variations in shape and thickness.
CER008503