GOU
A delicate and beautiful pattern overlays the GOU knife.
YAXELL has achieved the ultimate material to ensure the comfortable use of stainless steel knives.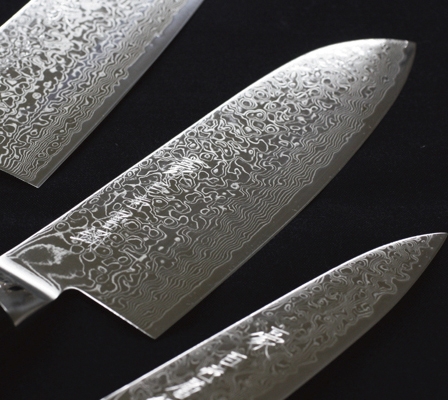 The unique motif of a rising dragon spreads over the blade to the point at its tip. Handmade by skilled artisans, each knife has a different look. In other words, your knife is the only one like it in the world. The quality knife "GOU" consists of 101 layers Damascus steel, which is the latest and best steel material. The GOU knife is produced by our artisans' exquisite skills using heat treatment and the grinding process according to leading-edge technologies. It requires concentration to create blades that are a few millimeters thick. This is the key to providing a smooth cut and comfortable use of the knife. The fine Japanese characters on the blade are engraved by hand.
Manufacturer
YAXELL CORPORATION
TEL
+81-575-22-3411
URL
E-mail
Product Information
Material:
Blade - 101 layers microcarbide steel (core SG2)
Handle - Canvas micarta

Size:
Chef's knife - blade length 200 mm
Santoku knife - blade length 165 mm

CUT002201