"Senzo" Knife Series
The knife series with a touch of Japan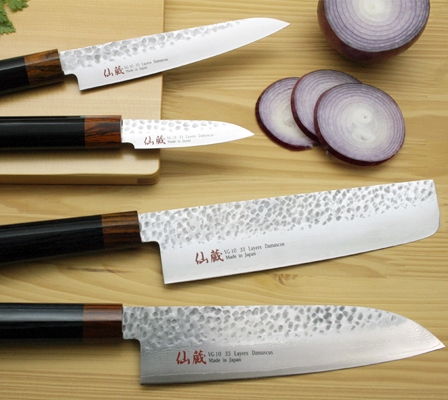 Here in Seki City, which is a world-renown cutlery manufacturing area, an artisan has carefully assembled individual blades with handles. This knife series features the sharpest blade in the world. The entire design presents an impression of Japanese taste. The beautifully designed blade has a wave pattern specific to Damascus stainless steel and a hammered pattern. Two kinds of wood materials are used for the handle to give it a natural finish. The design and sharpness have been higly praised by various overseas customers.
Manufacturer
SUNCRAFT COMPANY LIMITED
URL
E-mail
Product Information
Material: blade - Damascus stainless steel,
handle - Mahogany wood and Black pakkawood

Variations and usages:
Petty knife: mainly for fruits and small foods
Santoku knife: a versatile knife in the most common shape
Chef's knife: for meat and larger foods
Thin blade knife: for vegetables
Sashimi knife: for sashimi
Paring knife: for peeling fruit and other items
Small Santoku knife: fits in women's hands for quick cutting



Comment
* Do not wash in a dishwasher.
CUT003501