"Mu" Knife Series
Japanese knife by an Italian designer.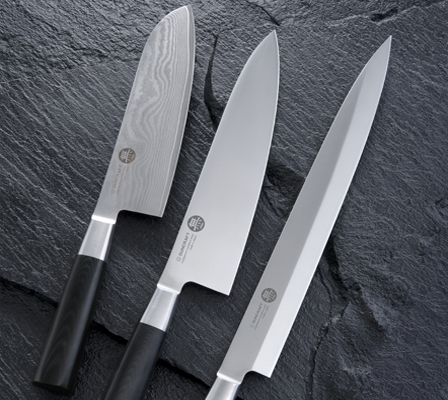 Here in the Seki City, which is a world-renown cutlery manufacturing area, an artisan has carefully assembled individual blades with handles. This knife series features the sharpest blade in the world. It is designed by Nunzia Paola Carallo, who used to work for the major Italian housewares manufacturer GUZZINI. Based on her own experience in living in Japan for long enough to became familiar with Japanese culture, she has successfully fused Japanese and Western tastes in this knife.
Manufacturer
SUNCRAFT COMPANY LIMITED
URL
E-mail
Product Information
Material: blade - Molybdenum stainless steel
handle - bamboo or compressed laminated-linen

Variations include 10 types for knives with a bamboo handle and 15 types with a compressed laminated-linen handle. You can choose one in accordance with its respective application for use in serious cooking.


Comment
* Do not wash in a dishwasher.
CUT003503