KASUMI H.M. Series
A unique hammer-patterned knife series finished by a mirror process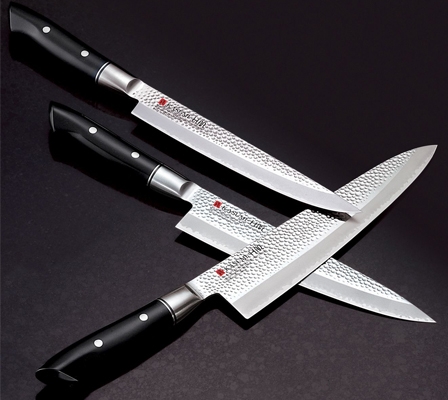 The super hard alloy VG-10 is used as a core material of the blade. This knife has a three-layered structure that holds the core material with corrosion-resistant stainless steel from both sides. The mirror-finishing technique has successfully created a modern look from the traditional pattern of marks with the curving knife. Seki's skilled artisans are responsible for assembling the blade. This series is exclusively for overseas sales.
Item number
No.78020:Chef 20cm
No.74018:Japanese Chef 18cm
Manufacturer
SUMIKAMA CUTLERY MFG.CO.,LTD.
URL
E-mail
Product Information
Material:
Blade - VG-10 (3-layer steel)
Handle - POM resin

Chef knife 20 cm
Entire length: approx. 34 cm
Blade length: approx. 20 cm
Weight: approx. 180 g
Intended use: cutting meat and vegetables.

Japanese Chef knife 18 cm
Entire length: approx. 32 cm
Blade length: approx. 18 cm
Weight: approx. 190 g
Intended use: utility type for cutting meat, fish, and vegetables.

CUT004603