Shikisai Miyako
Pursuing the original functionality and beauty of knives led to the development of this "Miyako" Damascus knife. This is a very excellent Japanese knife with glorious presence.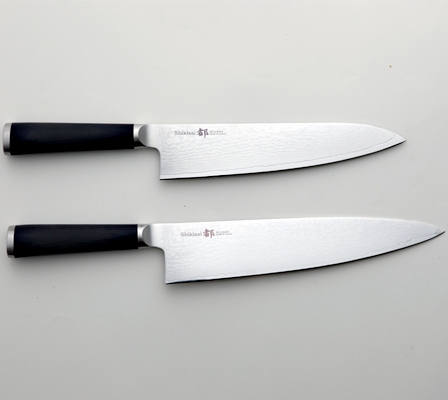 Shizu Hamono has reproduced Damascus steel for the blade, which was prized for its beauty in ancient Syria. After mirror polishing, a matting process is performed to give it a soft luster. The blade gives a clean cut, carefully crafted by a skillful Seki forge master. You can easily carve a hard pumpkin or cut thin slices of tomato without damaging them. We are proud of the long-lasting sharpness of the blade. The handle is designed in an R-shape to fit in the hand, representing a style that Shizu Hamono has been pursuing. Please feel the comfortable grip and stable fit for yourself.
Manufacturer
Shizu Hamono Co., Ltd.
URL
http://www.shizuhamono.net/english/
E-mail
Product Information
Material: handle – reinforced wood
blade – 33 layer Damascus steel (AUS8 & martensitic steel)Variations include total 11 items:
Chef's knife 240mm/210mm/180mm
Santoku knife 180mm/165mm
Yanagiba knife
Deba knife
Petty knife 130mm/110mm
Paring knife
Peeling knife

Comment
Do not wash/dry in a dishwasher/dryer.
CUT007601