pomme
A knife for cutting apples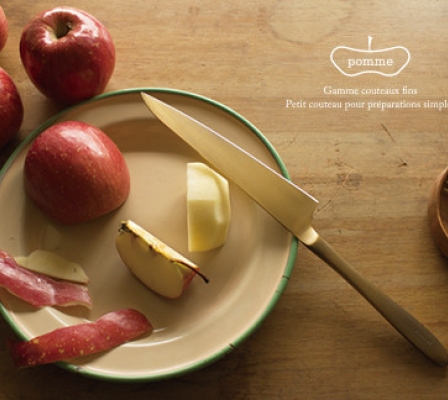 A pleasant time after a meal with people seated around the table. A relaxing moment cutting an apple while enjoying a conversation. We have created a paring knife that is naturally suitable on such occasions.

"Expression of the knife"
In effort to create a knife that is charming as a hand painted antique plate or well- used tool, each blade of "pomme" knife is manually engraved, brushed and sharpened, and the handle portion is also crafted one by one to ensure absolute grip comfort. See for yourself the difference and uniqueness of each handmade knife.
The blade is made of stainless steel and has a brushed pure gold plated finish.

◇Bread knife
This bread knife has two types of uniquely developed serrated edges. When cutting a hard crust, use the sharper, smaller grooves towards the tip, which smoothly cut into the bread. When cutting the soft inner part of bread, use the larger grooves, which make beautiful slices.

◇Petit knife
The small sized knife is suitable for u
Item number
パン切りナイフ (Bread Knife):
SP-4021 JAN 292742
ペティナイフ (Petit knife):
SP-4020 JAN 292735
チーズナイフ (Cheese knife):
SP-4022 JAN 292759
Manufacturer
Shizu Hamono Co., Ltd.
URL
http://www.shizuhamono.net/english/
E-mail
Product Information
[DIMENSIONS]
Bread Knife:
Overall Length 290mm
Blade Length 160mm
Weight 80g

Petit Knife:
Overall Length 280mm
Blade Length 145mm
Weight 90g

Cheese Knife:
Overall Length 250mm
Blade Length 120mm
Weight 70g

[MATERIALS]
Petit Knife / Bread knife:
3-layer stainless steel (High carbon molybdenum vanadium steel AUS8 & low carbon Martensite steel)

Cheese Knife:
Stainless steel (Martensite steel 420J2)

Plated in 24 carat gold with 99.9% purity

Comment
- Please handle with care as the knives are made of delicate steel material. Wash by hand and wipe them dry to prevent corrosion before storing. (Do not put in dishwasher)
- Due to the handcrafted nature of these knives, brushed finish and serrated edges may slightly vary.
CUT007604