yamato
Easy-care kitchen knives from Seki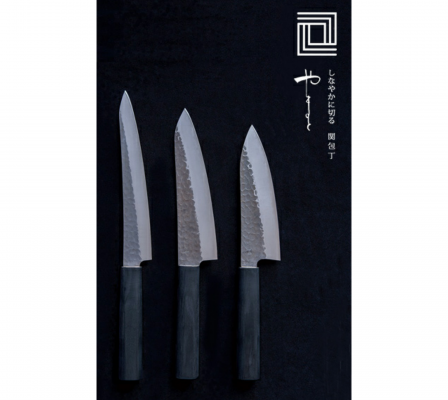 The Yamato Series features classic SANTOKU, YANAGIBA and DEBA* knives which have been used in Japanese kitchen for centuries.
(*SANTOKU = all-purpose, YANAGIBA = for Sashimi, DEBA = for fish)

Knife makers in Seki City are skilled in sharpening blades. Incredibly hard molybdenum-vanadium steel is sandwiched between rust-resistant low-carbon stainless steel, promising long lasting sharpness.

The SANTOKU knife is useful for cutting various ingredients for a variety of Japanese cuisine. The SANTOKU is a must-have knife to make your everyday cooking fun.

The DEBA and YANAGIBA have double-edged blades, making cutting easier for both right and left handed users.

The YAMATO Series features a hammered finish that prevents food from sticking to the blade.
Item number
柳刃 (YANAGIBA):SY-4402 JAN 292919
三徳 (SANTOKU):SY-4400 JAN 292896
出刃 (DEBA):SY-4401 JAN 292902

Manufacturer
Shizu Hamono Co., Ltd.
TEL
+81-575-22-0956
URL
http://www.shizuhamono.net/english/
E-mail
Product Information
[DIMENSIONS]
YANAGIBA:
Length 330mm
Blade Length 205mm
Weight 130g

SANTOKU:
Length 310mm
Blade Length 185mm
Weight 130g

DEBA:
Length 290mm
Blade Length 160mm
Weight 150g

[MATERIALS]
Blade: 3 layers of steel (High carbon molybdenum vanadium steel AUS8 & low carbon SUS1A-1)

Handle: Reinforced laminated wood
Comment
-The handle is made of reinforced laminated wood that is easy to grip and tough against water.
-The actual wood grains and color may appear slightly different from the catalog image.
-Do not soak in water for long periods of time.

CUT007605