Yuri
Easy-care kitchen knives from Seki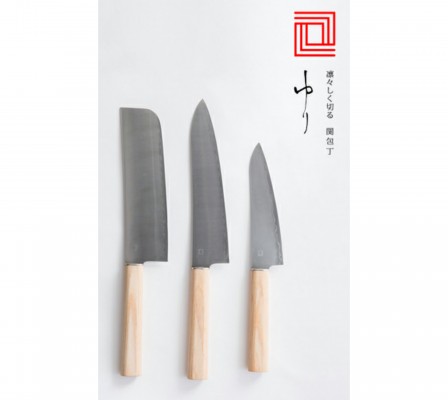 The YURI Series features classic SANTOKU, NAKIRI and PETTY* knives which have been used in Japanese kitchen for centuries.
(*SANTOKU = all-purpose, NAKIRI = for vegetables)

Knife makers in Seki City are skilled in sharpening blades. Incredibly hard molybdenum-vanadium steel is sandwiched between rust-resistant low-carbon stainless steel, promising long lasting sharpness.

The YURI Series was developed by the hands of female staff in the knife industry. With their experience in cooking and knowledge of knives, they designed a collection of knives ideal for everyday use. Their idea came to be the thinnest blade among Shizu's entire collection. The thin blade will cut effortlessly through ingredients.

The SANTOKU knife is useful for cutting various ingredients for a variety of Japanese cuisine. The SANTOKU is a must-have knife to make your everyday cooking fun.

The NAKIRI is specifically designed for dicing vegetables beautifully. Despite the usefulness, it has been losing
Item number
菜切型 (NAKIRI): SY-4421
JAN 292933
三徳 (SANTOKU): SY-4420
JAN 292926
ペティ (PETIT): SY-4422
JAN 292940

Manufacturer
Shizu Hamono Co., Ltd.
URL
http://www.shizuhamono.net/english/
E-mail
Product Information
[DIMENSIONS]
NAKIRI:
Overall Length 295mm
Blade Length 175mm
Weight 110g

SANTOKU:
Overall Length 310mm
Blade Length 190mm
Weight 90g

PETIT KNIFE:
Overall Length 250mm
Blade Length 140mm
Weight 65g

[Materials]
Blade: 3 layers of steel (High carbon molybdenum vanadium steel AUS8 & low carbon SUS1A-1)
Handle: Reinforced laminated wood

Comment
-The handle is made of reinforced laminated wood that is easy to grip and tough against water.
-The actual wood grains and color may appear slightly different from the catalog image.
-Do not soak in water for long periods of time.

CUT007606