Emergency Escape Hammer for Automobiles
One for every car!
Life-saving car escape hammer for every car on the road.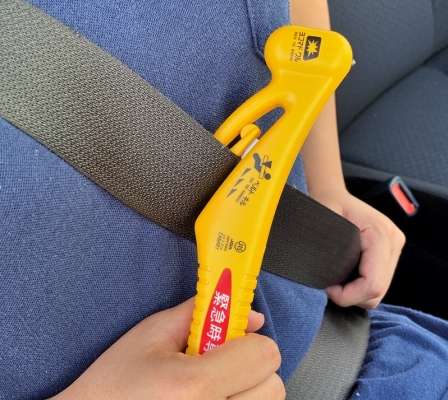 [Quick & Easy Car Escape Tool] If you are trapped in a car due to a disaster such as a traffic accident or submersion, you can escape quickly and easily with this tool. The sharp Japanese stainless steel blade cuts the seat belt quickly and the super hard hammer can easily break tempered side glass windows on a car with light force.
[Ultralight] Unlike other tools meant to breaking windows using its weight, this tool weighs only 60g. Even elderly people and women can handle emergencies on their own.
[When submerged] The lightweight design allows the tool to float in water, making sure it does not get lost in case the car submerges in water.
[JIS certified quality] Received JIS (Japanese Industrial Standards) certification and passed Japanese domestic standard quality tests. Can be use it with confidence.
Item number
RE-20-J
Manufacturer
HASEGAWA CUTLERY CO., LTD.
TEL
+81-575-22-1511
URL
http://www.canary.jp/en_index.htm
E-mail
Product Information
Body size (length x width x height): 205mm×40mm×18mm
Weight: 59g
Blade: Stainless cutlery steel
Body: ABS resin
Holder: Polypropylene resin
Hammer: Cemented Carbide
Comment
Precautions when using
⚠ Expiration date is 10 years from manufacture. The serial number is printed on the back of the unit.
⚠ Only for side glass. It cannot be used for windshields, rear glass, and laminated glass.
⚠ Only use to cut seat belts, do not use for cutting anything else.
⚠ When in use, crack the glass without too much force. If you use too much force, the glass may shatter and lead to unintended injuries.
CUT007804