Canary Small Paper Craft Art Detail Scissors Fluorine Coating
Excellent sharpness despite its small body! Scissors that make your hobby even more enjoyable.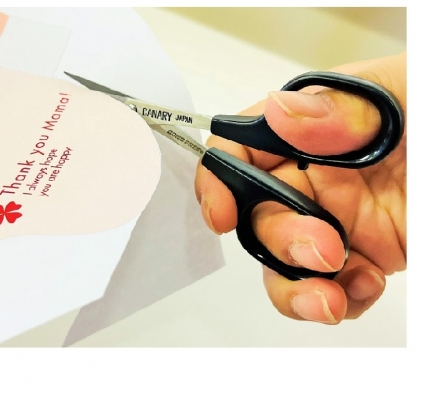 [HIGH QUALITY TINY PRECISION SCISSORS] The thin and sharp blade reduces cutting resistance and allows you to cut finely as you want.
[NON-STICKING COATED BLADE] The blade has been processed with special fluorine coating. Adhesives do not stick to the blade even when cutting something like scotch tape, duct tape, double-sided tape, etc.
[THICK STABLE HANDLE] The heavy duty handle fits the fingers and stabilizes the blade, providing the user better control for better paper art and cutout work.
[JAPANESE QUALITY] Made in Japan. Uses only high-grade Japanese stainless steel. All items are hand made by professional Japanese craftsmen.
Item number
DSB-100
Manufacturer
HASEGAWA CUTLERY CO., LTD.
TEL
+81-575-22-1511
URL
http://www.canary.jp/en_index.htm
E-mail
Product Information
Total Size: 4.13×0.19×2.08mm
Blade Length: 0.7 inches
Blade: Stainless steel Fluorine coating
Handle: ABS resin
CUT007808