Zanmai Supreme Twisted VG-10 Butcher Knife 240 mm
Ultra-precise knife with the world's first octagonal twisted handle performs smooth cutting. The Zanmai knife features its own eye-catching and unique design.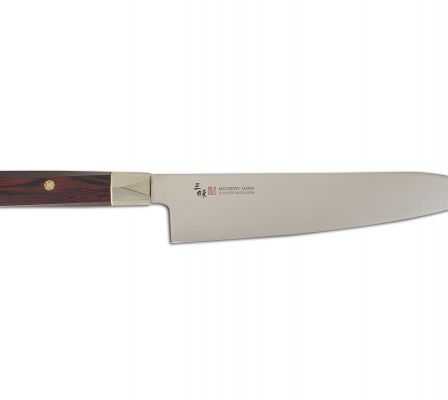 The world's first octagonal twisted handle fits extremely well into the hand no matter how you grip it. The blade is made of VG-10 steel, which has extra sharpness and durability. The quality is ensured by first-class chefs. In addition to the quality of the blade, the Zanmai knife is appealing for its unique characteristics, such as its superior design and well-balanced grip.
Item number
TZX2-4005V
Price
JPY23,100
Manufacturer
MARUSYO INDUSTRY Inc.
URL
http://www.silky-mcusta.co.jp/
E-mail
Product Information
Material: Blade - high carbon stainless steel VG-10
Handle – red plywood
Entire length: 391 mm
Blade length: 240 mm
Weight: 215 g

CUT008701