Hanasaka
A perfect gift for any occasion, including two kinds of seasonal sake with a cup and saucer set designed like a camellia flower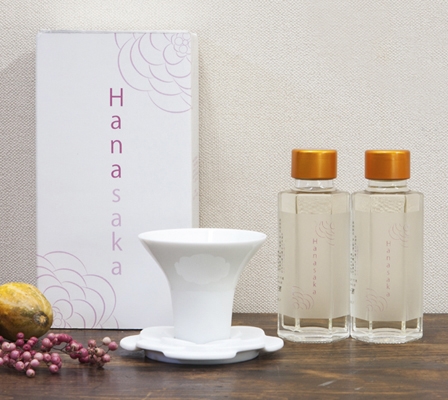 You will be excited to open the box! The soft-colored package contains two kinds of select sake (each 100mL) and a drinking cup and saucer set. The camellia-like design of the cup and saucer was produced in cooperation with the local Mino Ware pottery industry. Chigonoiwa is particular about the shape, rim thickness, and texture of the cup, which resembles a wine glass, in order to bring out the rich taste and to spread the aroma. This product proposes a new way to enjoy Japanese sake. Just like presenting a bouquet to your loved one, you may send this HANASAKA as a gift for various celebratory occasions.
Manufacturer
CHIGONOIWA Sake Brewery CO., LTD.
TEL
+81-572-59-8014
URL
E-mail
Product Information
Volume: Japanese sake 100 mL × 2 bottles, Mino Ware sake set (cup and saucer)
Materials: Water, domestically-produced rice, domestically-produced rice malt
Comment
- Store away from direct sunlight and hot/humid conditions.
FOD001202