Rinkosan Black Vinegar
Enjoy the mild sourness and natural sweetness of rice. The rich aroma stimulates your appetite.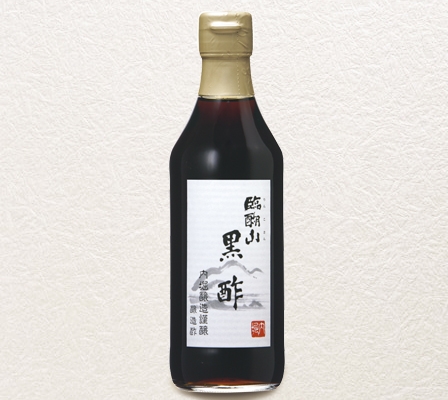 Rinkosan Black Vinegar is brewed only with rice using a unique fermentation method with a specified aging period. It features mildness, umami, and a rich aroma. No flavoring ingredients or sweeteners are added, because Uchibori values the original taste of ingredients. In addition to adding some vinegar to your dishes as a subtle touch, you can also drink it by mixing it with water and honey.
Item number
2080
Manufacturer
UCHIBORI VINEGAR, INC.
TEL
+81-574-43-1185 (Japanese only
URL
E-mail
Product Information
Volume: 360mL
Material: rice
Expiration date: 2 years from the production date

Comment
- Store in a cold dark place away from direct sunlight.
- The mild sourness makes it easy to drink.
- It features rice-derived sweetness and a rich, appetizing flavor.
- It easily blends with a variety of dishes.

FOD003102